# Notifications and Email Settings
In the Notifications Settings page you can make changes to the emails you and your customers receive from Reflow.
# Notification Settings
Here you can control what notifications to receive from Reflow.
New Orders - Enable this option if you wish to receive notifications about newly placed orders. When an order is placed, Reflow will send you an email containing all information about bought products, shipping details and more.
Notification Address - The email address to which all Reflow notifications will be sent. By default this is the email used during registration.
# Customer Email Settings
Reflow offers the option to send automated emails to your customers when they place an order, complete payment or do other interactions with your store. In this section you can enable or disable these emails.
Order Placed - Customers receive this email when they place an order with a custom payment method selected. It provides instructions on how to complete the payment.
Processing Payment - This email is sent when customers pay via Stripe using an asynchronous payment method that takes time to process, like SEPA, ACH and Sofort. It informs them that their order was received but payment is still pending.
Successful Payment - The email customers receive when the payment transaction for their order has been completed. For orders with custom payment methods, you can send this email manually when changing the order status to paid.
Products Shipped - An email notifying customers that the products from their order have been shipped. This type of email can be sent manually when changing the order status to shipped.
# Email Content and Localization
The content of all emails Reflow sends can be customized and translated to fit your needs.
From the Notifications Settings page go to the email type you wish to update and click the Customize link to open the editing dialog.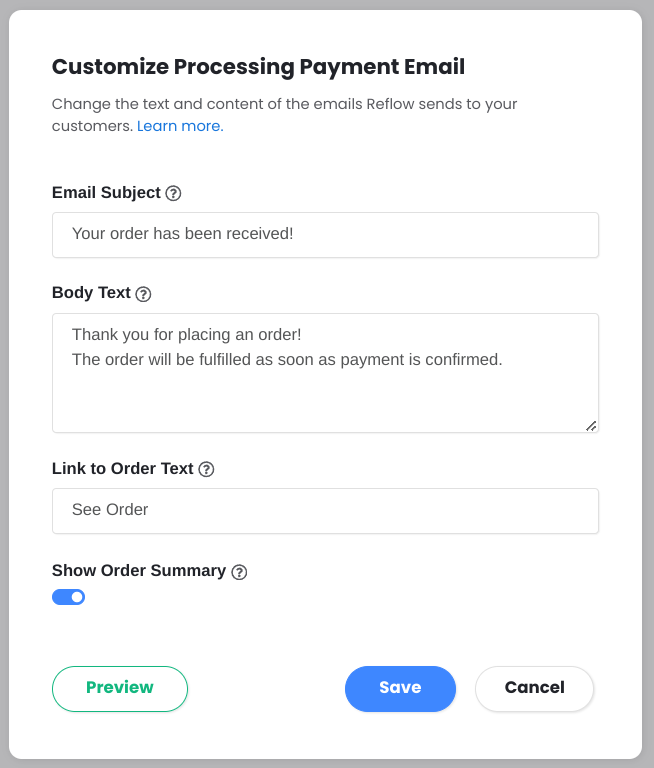 Email Subject - The title of the email. Customers will see this in their mail client and notifications.
Body Text - The main text displayed in the email. (This option is not available for some email types)
Link to Order Text - The text for the link leading to the order page. This link is only displayed in emails when the Order Status Page option is filled.
Show Order Summary - Enable this option if you wish the email to include a table with the order's products, shipping costs, taxes and other line items.
You can click the Preview button to see an example email with the updated customizations applied.
When you are happy with the email, click the Save button to save all changes.