# Notifications and Email Settings
In the Notifications Settings page you can make changes to the emails you and your customers receive from Reflow.
# Notification Settings
Here you can control what notifications to receive from Reflow.
New Orders - Enable this option if you wish to receive notifications about newly placed orders. When an order is placed, Reflow will send you an email containing all information about bought products, shipping details and more.
Notification Address - The email address to which all Reflow notifications will be sent. By default this is the email used during registration.
# Customer Email Settings
Reflow offers the option to send automated emails to your customers when they place an order, complete payment or do other interactions with your store. In this section you can enable or disable these emails.
Order Placed - Customers receive this email when they place an order with a custom payment method selected. It provides instructions on how to complete the payment.
Processing Payment - This email is sent when customers pay via Stripe using an asynchronous payment method that takes time to process, like SEPA, ACH and Sofort. It informs them that their order was received but payment is still pending.
Successful Payment - The email customers receive when the payment transaction for their order has been completed. For orders with custom payment methods, you can send this email manually when changing the order payment status to paid.
Products Shipped - An email notifying customers that the products from their order have been shipped. This type of email can be sent manually when changing the order fulfillment status to shipped.
Order Ready for Pickup - An email for letting know customers their local pickup order is ready to be collected. This type of email can be sent manually when changing the order fulfillment status to ready for pickup.
Digital Downloads - The email sent to customers when they buy digital products. It contains download links for each product.
Gift Card Purchased - The email sent to customers when they buy gift card products. It contains the gift card code and instructions on how to use it.
# Changing Email Content
The content of all emails Reflow sends can be customized and translated to fit your needs.
From the Notifications Settings page go to the email type you wish to update and click the Customize link to open the editing dialog.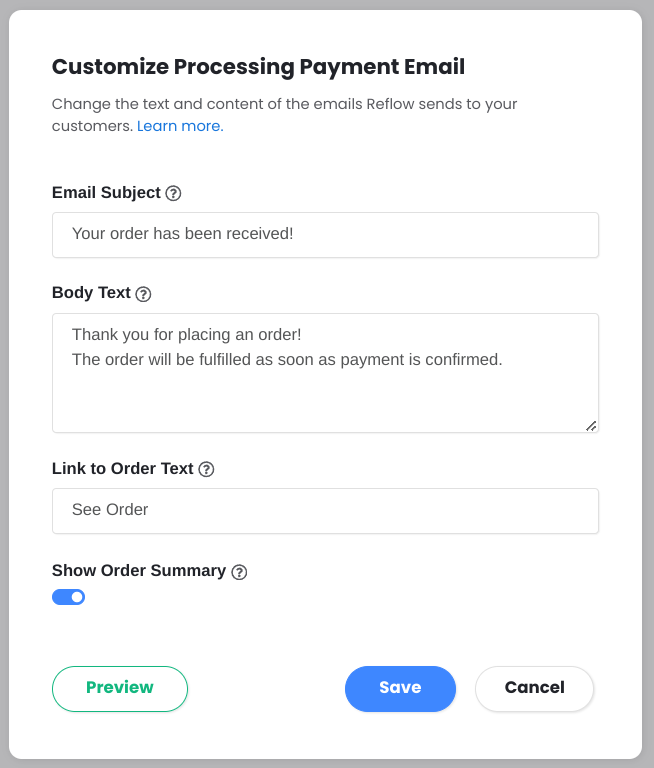 Email Subject - The title of the email. Customers will see this in their mail client and notifications.
Body Text - The main text displayed in the email. (This option is not available for some email types)
Link to Order Text - The text for the link leading to the order page. This link is only displayed in emails when the Order Status Page option is filled.
Show Order Summary - Enable this option if you wish the email to include a table with the order's products, shipping costs, taxes and other line items.
# Email Preview
You can click the Preview button to see an example email with the updated customizations applied.
When you are happy with the email, click the Save button to save all changes.
# Localization
In this section there are options for formatting and translating some of the words and phrases used in the emails. These settings are shared between all emails.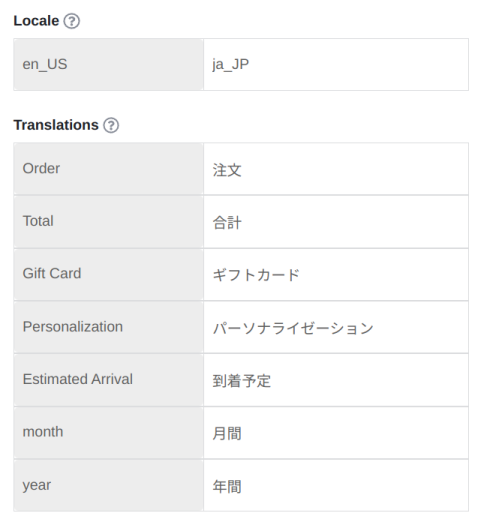 The Locale input is used for specifying an ISO country-language tag that will determine the format of all dates shown in the emails.
In the Translations table, the left column shows the words in English and the right column takes their equivalent in the translated language. All inputs here are optional.
These options allow you to add your brand's signature colors and logo to the emails.
Store Logo Image - An image file that will be displayed at the top of all customer emails.
Button Background Color - Most emails include a call to action button prompting customers to view their order or visit a link. With this option you can change the background color of these buttons to better match your brand.
Button Text Color - After changing the button background, make sure to select a button text color that is easily readable. For lighter backgrounds choose a darker text color and vice versa.
Emails sent from our platform include a "Powered by Reflow" message at the bottom. If you wish to remove this from the emails, go to the Notifications Settings page and toggle the Show Reflow Branding switch off.